Minister - Rev. Daniel Saunders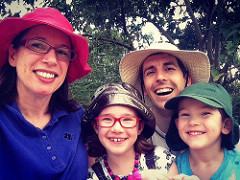 ]
Daniel and his family have been ministering in Gympie since 2016. Daniel loves to see people growing as followers of Jesus and is excited to see God at work in the Gympie Region. Daniel is the Gympie Ministers' Network's coordinator for Religious Instruction in the local state schools. During his time off he enjoys playing board games with his family, running (you'll see him most Saturday's at parkrun ), roasting and drinking coffee, and keeping track of the world of technology.
Prior to moving to Gympie, Daniel was the Assistant Minister at Kenmore Presbyterian Church . Daniel studied for the ministry at Moore Theological College and the Queensland Theological College .
Elders
Our church is lead by a team of assessor elders, appointed by the presbytery.
Rev. Jono Buesnel ( Bargara Presbyterian Church )
Rev. Shane Wright ( Palmview Church )—Session Clerk
Committee of Management
Elected annually by the congregation