Stage 3 - Resuming gatherings
Church as restrictions are lifted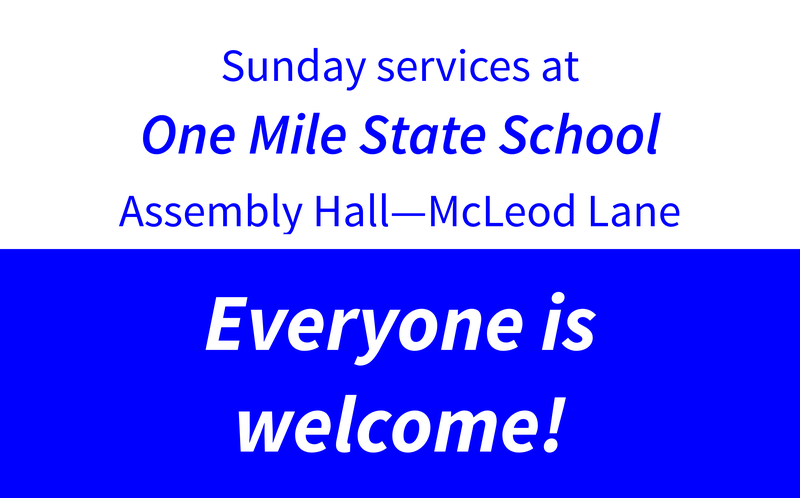 As of July 19, 2020, Gympie Presbyterian Church is regathering at One Mile State School.
We will operate according to the approved COVID Safe Plan for 'places of worship'. This plan enables us to meet together in Bible study groups and as church on Sundays. This post gives a brief explanation of the procedures we have in place as we gather on Sundays at One Mile State School.
COVID Safe information for Sundays
Before you arrive
Although we're all excited to be able to gather in-person, you must stay home if you:
have upper respiratory symptoms (runny nose, cough, colds etc) —this includes children
exhibit any COVID-19 symptoms
have been in contact within the past 14 days with a person having or suspected of having COVID-19
have returned from overseas in the past 14 days or been in contact with someone who has.
Also, the COVID Safe guidelines recommend that people should not attend if:
over 70 years of age
over 65 years of age with underlying health issues
indigenous and over the age of 50 with one or more chronic diseases.
Please bring with you
A Bible (best) or Bible app on your device (second best). (If you don't own a Bible, please contact us-—we'd love to give you one!)
Notice Sheet. You'll be able to download/print it from here. It'll be updated each Friday.
A snack, and maybe a thermos for a cuppa/morning tea. (We have bottled water available.)
Warm clothes.

We are required to have doors and louvres open to maximise ventilation. During winter, the mornings can be pretty cool, so you might want to bring a jacket or even a knee rug!

A ready, generous heart and open ears!
When you arrive
There is plenty of parking on McLeod Lane. Please prioritise the closest car parks for people with limited mobility.
Please enter via the double gates on McLeod Lane. (We've got an A-Frame which will show you the way.)
Make your way to the welcomers where

You'll be greeted with a warm smile—but not a handshake or hug!
You'll be asked whether you've been unwell, or been in a person who is at risk of COVID19.
You'll need to give details for contact tracing

If you're in our directory we'll mark you on the roll.
If you're visiting we'll record name, address, mobile phone. This will be kept for contact tracing - unless you permit us to add your details to the church database.

A welcomer will explain how we are going to preserve physical distancing in our seating arrangement.
During the service
We will be singing! At this point, we'll use pre-recorded music.
There will be a kids spot. There are also activity sheets available from QuizWorx. There won't, however, be Sunday School for the time being.
After the service
We'll have a BYO morning tea outside the hall.

Please ensure we all continue safe physical distancing during this time.
Those on the clean-up roster will put away chairs and sweep the hall.
Things will feel a little different as we gather under the COVID Safe plan, and we'll all be learning how to do this together.If you have any questions or concerns, please get in touch.
---